Seichi Tabata Sensei (1926-2013)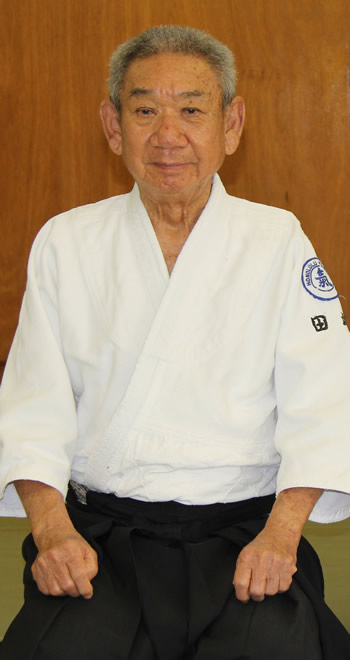 Seichi Tabata sensei was born in Lahaina, Maui on July 31, 1926, the third child of Shozo and Mitsuru Tabata. He was born a healthy child, but after contracting measles at age three, he became very ill and developed asthma. Due to his asthma, he was only able to attend school half the time.
At age nine, his father sent him to learn Judo to build up his frail, weak body, in addition to his confidence. With training, he became healthier. He continued training in Judo and at age 18 volunteered in the Army. After taking basic training at Scholfield Barracks, he left for Japan and was stationed at Camp Zama and later in Osaka. After one and a half years, he was made Staff Sergeant. In Japan, he met and married Emiko Tabata, his devoted and nurturing wife for over 60 years.
In 1948 and he left the Army and returned home to Maui, to work with his father at the Tabata Store. Tabata sensei received his 3rd Dan in Judo and started teaching Judo in Lahaina, Maui. The Captain of the Police Department asked him to teach the children of Lahaina, because he was having problems with burglaries and thefts in the area. Tabata sensei had about a hundred Judo boys that were a band of "Rascals." Their behavior improved with his teachings and they are now doing well wherever they go.
Tabata sensei met Koichi Tohei sensei in 1953 after his father told him he read about a man from Japan who was very strong and powerful. Although he was only 5'3' tall and weighed 145 pounds, he could throw a man with one finger. Tabata sensei went to observe Tohei sensei's exhibition in Honolulu and was asked by Tohei sensei to participate. Tabata sensei was so impressed, he asked Tohei sensei to come to Lahaina, Maui to teach. Tohei sensei went to Maui, and returned to Hawaii the following year to teach and established dojos across the islands. Tabata sensei became one of his first students in Hawaii and his devoted student for nearly 60 years.
In 1961, Tabata sensei moved his family to Honolulu. He worked as a stock clerk at Foodland but the pay was too small to support his family of five. So he started working for the retail chain Household Devilles and was made president the following year. In 1975, he went to work as a salesman for American Mutual Company, and after six years, transferred to Occidental Underwriters to sell insurance. He became a member of the Million Dollar Round Table for twenty years. Tabata sensei worked very hard all his life to provide the best for his family. He always believed in being positive and reached all the goals he set for himself.
Tabata sensei had a great influence in the development of Aikido in Hawaii. Over the six decades since meeting Tohei sensei, he helped thousands of people through Ki and Aikido. He developed many top instructors who went on to establish their own dojos and become prominent members in their communities. sensei was still actively teaching Ki and Aikido as the Chief instructor of the Honolulu Ki Society, Seishinkan Dojo, until he passed away on November 18, 2013. Tabata sensei has always said "Be strong and have a healthy mind and body and be good to other people. If you do your best, you will have no regrets in life. Live happy every day!"
Tabata sensei will be deeply missed. May all whose heart he touched, carry on his legacy of helping others through the principles of Ki and Aikido.